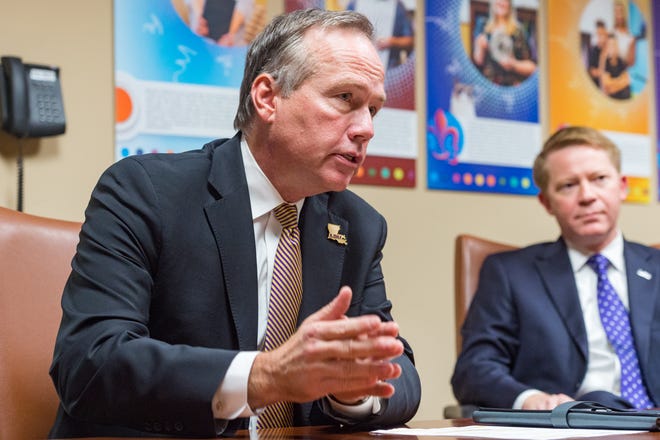 This story is developing. Check back for updates.
Oregon State University President F. King Alexander offered to resign from his position effective April 1 after a cascade of outrage from his role in Louisiana State University's sexual misconduct scandal.
The OSU Board of Trustees announced Alexander's offer during a specially called meeting on Wednesday before going into executive session to discuss whether to accept it.
"We know that rebuilding trust is no longer possible," OSU board chair Rani Borkar said before the executive session.
Alexander was president of LSU from 2013 to 2019 during a time when the school systemically mishandled reports of sexual misconduct by students and by head football coach Les Miles, according to a report by law firm Husch Blackwell that was publicly released this month by LSU.
LSU hired Husch Blackwell in November after an investigation by USA TODAY found that officials in the university's athletic department and broader administration repeatedly ignored complaints against abusers, denied victims' requests for protections and subjected them to further harm by known perpetrators.
Alexander began his tenure at Oregon State University in 2020 and has denied any responsibility in the LSU scandal.
Oregon State trustees first met last Wednesday to discuss revelations that LSU systematically mishandled sexual misconduct complaints during Alexander's time as head of the university. After a nearly seven-hour meeting, trustees voted to put him on probation rather than fire him. 
But the decision only escalated anger within the Oregon State community at Alexander, whom they felt had not taken accountability for the failings at LSU. The Faculty Senate issued a vote of no confidence last week, and Oregon Gov. Kate Brown, who appoints board members, also expressed her displeasure. Brown urged trustees to fire Alexander if he failed to uphold his ethical and legal responsibilities to protect students during his time at LSU.
This broken trust was expressed not only be the vote of the Faculty Senate, but by an outpouring of thoughtful statements from students, alumni and survivors of sexual assault.
"When we adjourned last week, we thought it was possible for President Alexander to repair the broken confidence and trust in his ability to lead OSU," Borkar said on Tuesday. "After listening to and hearing important input from diverse members of our community, we now know that rebuilding trust is no longer possible.
Simply stated, Dr. Alexander no longer has the confidence of the OSU community."
Further fueling the fire was a letter by the chairman of the Louisiana State University Board of Supervisors sent a letter to OSU's board on Monday, saying that Alexander had not been truthful in his testimony at last week's hearing.
Alexander had misled OSU about his willingness to be interviewed for an investigation into LSU's handling of sexual misconduct allegations under his watch, LSU Board Chairman Robert Dampf wrote.
Alexander told the board last week that the law firm Husch Blackwell never interviewed him for its investigation into LSU's handling of sexual misconduct and dating violence, which finished in March and focused on systemic failures that occurred on Alexander's watch.
Dampf pointed out that Husch Blackwell asked to interview Alexander twice. Oregon State's general counsel, however, responded on Alexander's behalf and said he would only take written questions.
"In the pursuit of truth, Husch Blackwell diligently collected information amounting to 2,500 documents totaling 75,000 pages and more than 60 interviews with LSU employees plus 27 community outreach interview sessions with 10 participants per session," Dampf wrote. "But they had only one and a half pages of responses from Dr. Alexander."
Alexander also claimed at last week's hearing that he had built LSU's Title IX office from nothing to having seven Title IX coordinators, one for each LSU campus. And he took credit for shutting down a problematic fraternity due to Title IX violations. 
Dampf noted in his letter, however, that the Title IX coordinators were hired before Alexander's arrival in 2013, and the fraternity was shut down because a pledge died during a hazing ritual, not because of Title IX issues.