Eyelashes are the key to completing any beauty look, whether that's to accentuate a lifted fox eye or to create definition and depth. But sometimes it can feel like a battle to get that perfect curl using mascara alone. Enter the eyelash curler.
A hugely overlooked part of makeup routines, an eyelash curler is the game changer when it comes to opening up the eyes and fanning out the lashes.
Clamp down at the base of your lash and twist the curler upwards to get a serious curl at the base and then unclamp and move towards the tip of the lash for that final flourish.
For extra longevity, give your curlers a blast with the hairdryer to warm them up (but only a little, you don't want to burn yourself) before using them.
Convinced? Now it's time to invest in a pair. We've rounded up our favourites below so you can choose the best eyelash curler for you.
---
If you click on a link in this story we may earn affiliate revenue.
---
1. Surratt Relevée Lash Curler
Surratt Relevée Lash Curler, £32 from Space NK – buy here
Surratt Revelée has some excellent credentials to back it up – it's used on Kim Kardashian by her makeup artist (and founder of Makeup By Mario) Mario Dedivanovic.
Made in Japan, it has thick, matte handles for a better grip and cushion-soft pads that deliver a brilliant curl in conjunction with its wide, curve-shaped head.
Forget about any worries of pinching, eye-prodding, lash-snapping or yanking because it sits smoothly on the lash line, gripping firmly but carefully to give you a lifted curl.
Is it expensive? Yes. Is it worth it? Absolutely.
---
READ MORE:
Best foundations for 2022
Best eyeshadows for 2022
Best women's razors for 2022
---
2. Tweezerman ProCurl Lash Curler
Tweezerman ProCurl Lash Curler, £22 from Look Fantastic – buy here
The Tweezerman ProCurl Lash Curler has been hailed by makeup artists as a beauty bag must-have. Why? Because it works on any eye shape and lash length.
It's extra-wide opening means it can get close to the eyelid and easily curl smaller lashes. What's more, it has hypoallergenic pads which are kinder to sensitive eyes and prevent pinching.
Plus the rose gold colour adds a little something extra to your makeup bag.
3. Chanel Le Recourbe Cils De Chanel
Chanel Le Recourbe Cils De Chanel, £30 from Boots – buy here
Chanel can be trusted upon to come up with the goods, and these eyelash curlers hit the mark. The curved head is designed so it isn't too rounded meaning it sits snugly on the root of the lash, allowing for a deep curl.
The pads are soft and cushiony so the pressure is gentle on your delicate lashes and you don't risk pulling any out. The slightly angled shape of the body makes getting a close curl straightforward and the tool itself is easy to manoeuvre.
Despite being £30, it's an investment. Just make sure to keep it clean so you don't spread bacteria around your eye area.
4. Kevyn Aucoin The Eyelash Curler
Kevyn Aucoin The Eyelash Curler, £13.55 from Beauty Bay – buy here
The Kevyn Aucoin eyelash curler is a firm favourite among A-listers and makeup artists alike. It's used by big names in the beauty world, like celebrity makeup artist Patrick Ta who has kept it as part of his kit when he's working with models like Gigi Hadid and Adriana Lima.
He hails the tool's wide curve and ability to curl even the shorter lashes. You also don't need to press hard to get great results which is a positive when it comes to looking after your lashes.
It's no surprise these curlers are some of the best in the business because Kevyn himself was a revered makeup artist who worked with top stars like Gwyneth Paltrow and was instrumental in creating the iconic 90s makeup that we are still emulating today.
5. Brushworks Lash Curler
Brushworks Lash Curler, £3.99 from Feel Unique – buy here
If your budget doesn't stretch to cover some of the pricier options on this list, never fear because you can still get beautifully curled lashes.
The Brushworks Lash Curler is a little straighter than some of the other picks so you may need to change the angle a couple of times to catch all of your lashes but the bright pink cushion is soft and protects them from being pulled and broken.
It's not dissimilar in shape to the Dior curler that is also on this list but doesn't have quite the same finesse, which is unsurprising considering the difference in price.
However, it does keep your lashes safe while giving them a lift and for £3.99, you can't go wrong.
6. Dior Backstage Eyelash Curler
Dior Backstage Eyelash Curler, £20 from Boots – buy here
The Dior Backstage collection as a whole is full of makeup must-haves so it's no surprise that the eyelash curlers also hit the mark.
The ergonomically shaped handles mean it's easy to grip and the squeezable mechanism makes it just as comfortable to use.
The cushion is generously padded to ensure that your lashes are curled safely and with no risk of breaking. The tool feels solid and well made, creating a curl that will last all day.
And as a cherry on top, it looks designer chic.
7. Laura Mercier Artist Eyelash Curler
Laura Mercier Artist Eyelash Curler, £20 from John Lewis – buy here
This Laura Mercier tool is a stalwart in the beauty world because of its wide angled curler. It's so wide that it grabs each and every lash in one fell sweep, softly bending the lashes to create an open-eyed, fanned-out finish.
The pad is made from silicone which makes it easy to clean and the curl holds all day after a single squeeze.
Ideally, this also comes with a spare pad for when the original has done all it can and needs to be changed which makes it even more long-lasting.
8. No 7 Lift & Curve Eyelash Curler
No 7 Lift & Curve Eyelash Curler, £7.95 from Boots – buy here
If you're looking for a full lash effect without the price tag then No7 might have the answer.
The pads are soft and gently curl the lashes without nipping the lid (which, as anyone who has clamped their eyelid in a curler will know, is pretty painful) and the slightly flatter design pushes them up further when squeezed at the root.
Just as the name promises, move them along the lash to the tip for a full lift and curve for under a tenner.
9. MAC Full Lash Curler
MAC Full Lash Curler, £16.50 from Look Fantastic – buy here
MAC and professional is synonymous in the world of makeup. The brand is regularly used backstage at fashion weeks all over the world and its products live up to that level of quality; including the Full Lash Curler.
The reason it's called the Full Lash Curler is because MAC also offers a Half Lash Curler to catch the very shortest of lashes right into the corner of the eye. However, this iteration gives a full glamour curl with a single squeeze and the longevity means it creates a perfect base for your mascara, no primer required.
10. Hourglass Lash Curler
Hourglass Lash Curler, £30 from Space NK – buy here
Hourglass is the brand to turn to if you are vegan and support fully cruelty free outlets because committing to this hasn't impacted the quality of the brand's products.
Just look at the Lash Curler. It's beautifully designed with an art deco, angular body and golden finish. Easy to control and free from latex, this curler has a generous opening so you can easily slide in your lashes and gently create a dramatic lift and curl.
The silicone pad protects the lashes and the tool comes with a spare so you're covered for six months before needing to spend money on replacing it.
11. Natasha Denona Eye Lash Curler
Natasha Denona Eye Lash Curler, £17 from Cult Beauty – buy here
Natasha Denona is a premium brand that is sometimes overlooked despite its high quality products. Take the Eye Lash Curler for example.
It's been designed to create an elongated curl rather than falling into the trap of just sharply bending the lash and is particularly good for people with short or straight lashes.
The shape of the head means it will fit various eye shapes and it won't pinch the lid.
12. Suqqu Eyelash Curler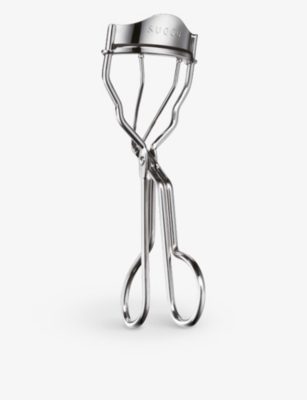 Suqqu Eyelash Curler, £19 from Selfridges – buy here
This is an award winning lash curler which is a big green flag that it's a good one. It has a unique curve to catch as many lashes as possible and helps the tool to sit comfortably against the eye.
It also looks high-tech with all the extra twists and turns in the design as well as housing a cushioned pad that – you guessed it – gently protects the lashes. If it didn't, rest assured, it wouldn't have made it on to this list.
As an added bonus, it comes with not one, but two extra silicone pads so your curler will last nine months before you need to consider any top ups.
13. NARS Eyelash Curler
NARS Eyelash Curler, £16 from John Lewis – buy here
This eyelash curler from beauty giant, NARS, already sets itself apart because of its sleek, matte black colour. It has a handy bend in the design which makes getting to the root of the lash for maximum lift easier.
By curling the tips of the lashes you get that open, curled look that creates the ultimate base for your mascara to work its magic.
When we say these lash curlers make a big difference, we mean it.
How to choose the best eyelash curler?
Key things to look out for when choosing eyelash curlers are the shape, pads and the grip. You're after an ergonomic shape to catch as many lashes as possible, super soft pads so they don't pull and non-slip grip.
What eyelash curler does Kim Kardashian use?
Kim Kardashian's makeup artist, Mario Dedivanovic uses the Surratt Beauty Relevée Lash Curler on the star so that's her go-to choice.
Do eyelash curlers really make a difference?
Charlotte Tilbury doesn't call them the 'push-up bra for eye-lashes' for nothing.
This nifty little tool adds the appearance of longer and more voluminous lashes, and helps to draw the eye upwards for a more open, lifted look.
Do eyelash curlers ruin your eyelashes?
Eyelash curlers can only wreak havoc on your lashes if you apply mascara before curling them.
Once you layer on mascara and let it dry, they become harder and therefore more likely to break when clamped down on.
Curl bare lashes for a few seconds and you're good to go.
How do I choose an eyelash curler?
Longer lashes will need a longer clamp that curves, and short lashes might need a less curved head.
This is because a flatter clamp gets right in to the lash line and harder to reach lashes.
MORE FROM SUN SELECTS BEAUTY
SKIN SAVIOUR

FOREO Review: Testing out the BEAR, LUNA 3 and UFO 2
You've got nail

8 best UK nail clippers to keep your fingers and toes in tip-top shape
Close Shave

The best UK women's razors you can buy in 2022
FLAWLESS FACE

I tried this viral foundation and can confirm the rumour it's a PERFECT match
F-ACE

11 best face masks you can buy in 2022 to moisturise and brighten your skin
OMG

BYOMA review: I tried BYOMA's under £14 barrier boosting range to fix my skin damage
freshen up

The 20 best aftershaves for men: from Dior Sauvage to Creed and Bleu de Chanel
SAVE AND SLAY

Beauty Pie review – are the products actually as good as cult favourites?
BLOODY GREAT

The 15 best menstrual cups to buy in 2022

Mylee Pro Salon Series LED lamp review: is it worth it?
Enjoyed our roundup of the best eyelash curlers? Check out our Beauty Pie review.
After more beauty hacks? Head to our designated Sun Selects Beauty page.
If you're in need of more advice, from fitness to motoring, have a browse of our Sun Selects homepage for inspiration.